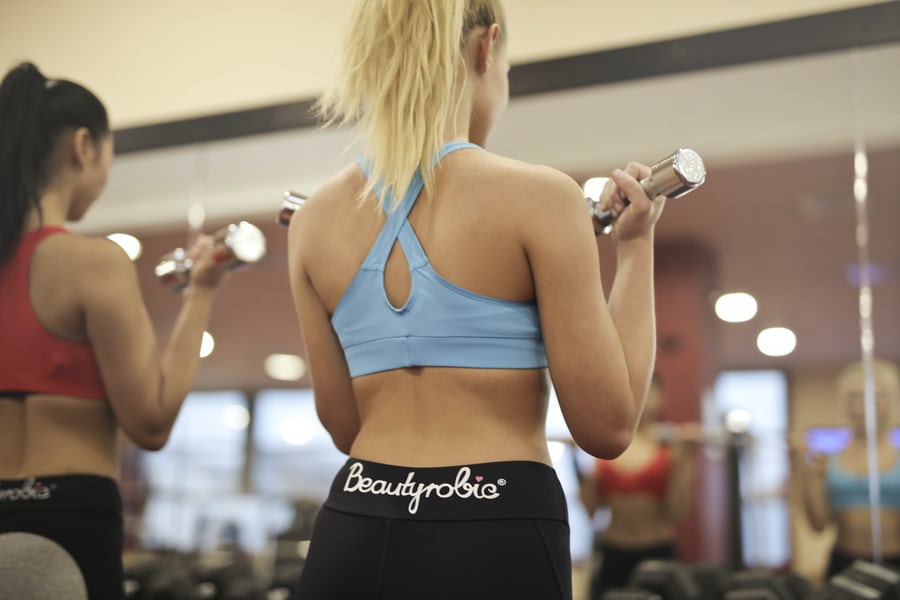 Do you ever have those days when you just don't feel like going all guns blazing? If this is how you feel today a no-stress or easy 20 minute workout could be the way forward. Let's face it, doing something is better than not doing anything at all. Low impact workouts still get you moving. I have put together an easy 20 minute yoga inspired workout which offers no-stress whatsoever and it could even help de-stress too.

1# No-Stress/Easy 20 Minute Workout
Perform each exercise for 30 seconds with a 20 second rest in between. Repeat the set 4 times. Focus on control and make each move count.

● Chair Pose
● Lateral Lunges
● Yoga Plank
● Russian Twist
● Bridge Pose
● Child's Pose

2# The Chair Pose
The chair pose is a great way to strengthen leg muscles, particularly the thighs. It also does a good job at working the arms and improving
balance.

1. Stand feet hip width apart
2. Raise your arms above your head
3. Bend your knees if you were going to sit down
4. Hold this pose
5. Return to starting position

3# Lateral Lunges
For leg work I love to choose lunges. This lateral variation will work the hips, glutes and thighs.

1. Stand with feet together
2. Take a large side step with right foot
3. Lower your hips and body weight into the move
4. With your foot push back to starting position.
5. Repeat on other side

4# The Plank: Yoga Style
The plank is a great core move. This easy yoga style variation will also work your shoulders and arms.

1. Start on hands and knees on the floor
2. Tuck your toes and step back with both feet
3. Your body should now be in line from head to feet
4. Hold pose
5. Slower lower knees back to the floor

5# Russian Twist
Russian twists are all about abdominals, obliques and easily trimming your waist.

1. Lie on your back with knees bent
2. Lift your body so that you are in a "v" position
3. Extend your arms and twist your midsection to the right
4. Repeat same movement on the left
5. Keep alternating each side until reps are finished

6# The Bridge
The bridge is a no-stress lying down move which works your glutes and improves core stability.

1. Lie on your back, knees bent and feet flat. Arms should be by the sides, palms down
2. Lift up your pelvis, squeezing buttocks as you rise up until you are in straight line from knees to chest.
3. Hold position
4. Slowly release back down

#6 Child's Pose
The child's pose is deemed a restful position and a good way to stretch out your body after an easy workout.

1. Kneel down on the floor and sit back on your heels
2. Stretch your arms out and bow forward
3. Keep arms extended and hold this position

Final Word
With any workout no matter how easy, it's important to do a quick warm up beforehand to prevent any injuries. If you feel like an easy day, then why not give this a try.